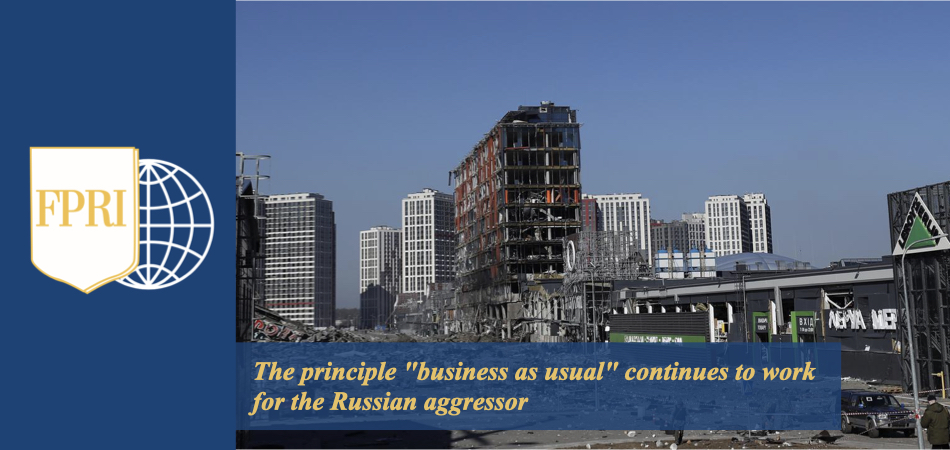 Photo: Leroy Merlin destroyed by Russian missile strike in Kyiv / ATEF SAFADI
Sanctions against the Russian Federation have become one of the main elements of the response to the attempted occupation of Ukraine. The sanctions pressure turned out to be more powerful than expected, because the invasion was preceded by months of attempts to coordinate policies between the EU countries and the refusal to impose preventive sanctions. But the Russian invasion and brutal destruction of Ukrainian cities affected not only American and European officials, but also the societies of these countries. Working with Russia has become toxic, which has led to an unprecedented withdrawal of global corporations and companies from the Russian market. In addition to the moral aspect, which is often neglected by business, decisions to leave Russia are affected by possible reputational losses.
At the same time, there are still companies that continue to work and pay taxes to the treasury of the Russian Federation. These are companies such as Auchan, Danone, Henkel, METRO, Procter and Gamble, Nestle, Leroy Merlin, Unilever, Raiffeisen BANK and others. There are cases when Ukrainian subsidiaries call on the central office to leave Russia, but these calls are ignored or even responded with punishments. It came after a Leroy Merlin branch in Kyiv was targeted by a Russian missile that killed eight workers. Employees in Ukraine say that the company not only did not respond to their demands, but also disconnected them from corporate communication channels and took away access to the Leroy Merlin Ukraine profile on Facebook.
As the number of competitors decreases, companies are tempted to stay in the Russian market. This is facilitated by the positions of governments of certain countries. In France, Emmanuel Macron left the question of domestic business functioning in Russia up to the owners. According to the French Ministry of Economy, French companies are the largest foreign employers in Russia: with 500 branches in sectors such as energy, wholesale or food industry. French firms, unlike German or Italian ones, are often active in the field of services with a large number of employees. Their exit from the market could be another blow to the Putin regime, however, worried about the upcoming election, Emmanuel Macron is unlikely to put pressure on domestic business because of Russia's aggression against Ukraine.
In addition to the fact that some companies refuse to leave the Russian market, there is a danger their place will be taken by companies from countries that ignore the war in Ukraine, or try to balance. These are, for example, companies from China, India or Turkey.
This situation does not go unnoticed by the Ukrainian Ministry of Foreign Affairs, which directly names companies that remain in Russia and urges them to leave the Russian market. The Foreign Ministry's position is as follows: "Every product that a company supplies, produces or sells in the Russian market contributes to the military budget, which has always been a priority for the Russian government over any basic needs of its own citizens. Regardless of the size of investment or Russia's share of the global portfolio, companies that adhere to the standards and values of environmental, social and corporate governance have no moral right to continue to operate in a country that commits mass war crimes in another country. The only exception may be companies whose supplies are justified by critical humanitarian needs."
Along with the military, diplomats perform important tasks, fight on the diplomatic front, and the demands for the diplomatic service are currently extremely high. On March 30, Volodymyr Zelenskyy recalled Ukraine's ambassadors to Georgia and Morocco for inefficiency and called on the heads of diplomatic missions in Latin America, Asia, the Middle East and Africa to show results in the form of restrictions on Russian business, sanctions and arms supplies.
As of today, Ukrainian diplomacy has several additional powerful tools. First, it is the support of Ukrainian society, as well as concerned citizens of other countries, who, among other things, take to the streets, urging companies to give up work in Russia and stop paying taxes on their activities to the Russian budget. They spread the information about brands that continue to operate in the aggressor country and call on others to boycott their products. For example, Ukrainian developer from Stanford Igor Barakayev created the website Don't Fund War, which contains a list of companies that continue to work in Russia and pay taxes there. In fact, the Foreign Ministry's line of work with Ukrainians abroad has reached a new level, which requires quality coordination to achieve the goal of depleting the Russian economy.
Second, Russian aggression has led to an unprecedented level of support for Ukraine from other countries and civil society, including business. The exit of companies from the Russian market strikes at the macroeconomic situation in Russia and undermines the position of Vladimir Putin. However, there are still companies that neglect moral principles or, as METRO representatives stated, "take care of their employees" who may lose their jobs. This is the point of such actions: in order for people in Mariupol to stop dying, it is necessary to put Russian citizens in an uncomfortable position.
We must not turn a blind eye to the murder of Leroy Merlin employees in Kyiv so that Leroy Merlin employees in Moscow do not have financial problems. Therefore, if global brands do not leave the Russian market, Ukraine's Foreign Ministry, along with global media and civil society, must crush the reputation of these companies until they stop supporting the criminal Putin regime, the support of which, according to a Levada Center study, has only increased. At the governmental level, it is also necessary to continue working with the leadership of the countries to ensure the pressure of state governments on their own companies. This is more than possible, given the current realities of public-private cooperation. Countries whose companies may replace those who left Russian market, must also be at risk of sanctions in order to prevent such a scenario.
---
Sources:
Leroy Merlin відключила українських співробітників від корпоративних каналів комунікації після бомбардування магазину в Києві, 31.03.2022,
URL: https://censor.net/ua/n3330045
Чому французький бізнес не йде з Росії, 30.03.2022,
URL: https://www.dw.com/uk/chomu-frantsuzkyi-biznes-ne-yde-z-rosii/a-61305890
Заява Міністерства закордонних справ України, 09.03.2022,
URL: https://www.facebook.com/UkraineMFA/posts/334278322075973
Які компанії ще не покинули російський ринок, 30.03.2022,
URL: https://www.epravda.com.ua/news/2022/03/30/684959/
Metro угрожал уйти из Украины, отказываясь от санкций против РФ, 21.03.2022,
URL: https://biz.today.ua/ru/metro-ugrozhal-ujty-yz-ukrayny-otkazyvayas-ot-sanktsyj-protyv-rf/