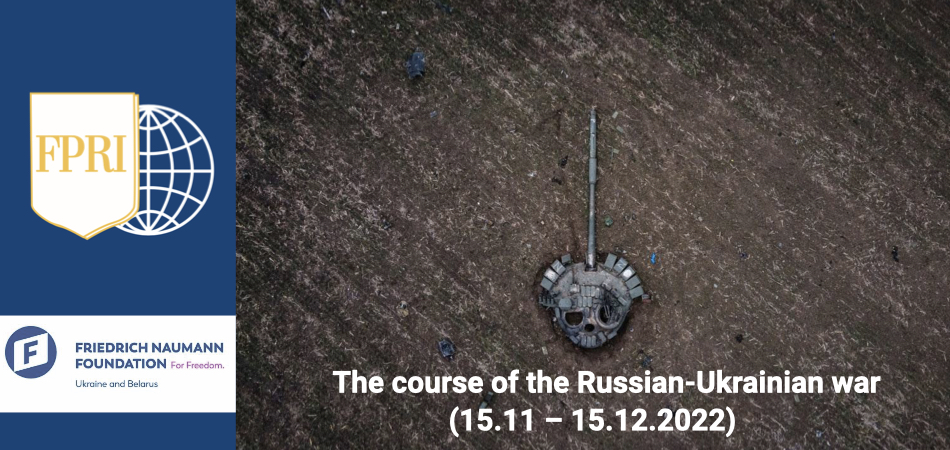 Source: Army FM
Fierce positional battles continue in the East of Ukraine. Russian troops continue the construction of defensive fortifications on the Svatove-Kreminna line. In this area, the counteroffensive of the Armed Forces was suspended. The Russians are even carrying out counterattacks. Ukraine continues to strike at concentrations of manpower, headquarters, warehouses and oil depots of the occupiers.
In the Bakhmut and Avdiivka directions, the enemy has concentrated its main efforts on offensive operations and had limited success. The Russians are suffering colossal losses in the Donetsk region, but the Armed Forces of Ukraine are also paying a high price. 250 wounded soldiers and civilians are brought to the Bakhmut hospital daily.[1] To the south of Bakhmut, the Russians captured the village of Kurdyumivka, and to the north of Bakhmut, Russian troops were stopped in front of Soledar. Between Soledar and Bakhmut, the Armed Forces pushed the enemy back several kilometers.
The enemy continues to shell settlements in the South of the country, in the Zaporizhzhia region and on the right bank of the Kherson region. During the month, Ukrainian forces continued to shell Russian logistics routes, as well as headquarters and locations of Russian servicemen in the Kherson and Zaporizhzhia regions.
In the last month, the media actively discussed the possibility of opening a new front on the Belarusian border. Joint exercises with the Russians are being held in Belarus, statements are being made public about the expansion of the joint grouping of troops, and combat readiness checks. In the future, Vladimir Putin will continue to put pressure on the Lukashenka regime with the aim of involving the Belarusian Armed Forces in hostilities, re-opening the front in the north or west of Ukraine. Such a step will have the purpose of cutting off material and technical support and diverting the Defense Forces of Ukraine from the eastern direction.
In the last month, in the period from 15.11.2022 to 15.12.2022, it became known about the transfer of the following weapons to Ukraine:
From Germany:
- ammunition for Mars 2;
- 3 heavy tank tractors M1070 Oshkosh;
-17 off-road vehicles for the border guard;
- spare parts for M2 machine guns;
-24 MG3 machine guns for armored repair and evacuation vehicles;
- 116 field heaters;
- 10 devices of detecting and countering UAVs;
- 20 range extenders for devices of combating drones;
- forklift;
- 20 Dingo armored vehicles;
- 14 THeMIS ground drones;
- rockets for IRIS-T;
- 2 units of BREM Bergepanzer;
- 30,000 shells for 40-mm grenade launchers;
- 5,000 155-mm artillery ammunition;
- 4 ambulances;
- 18 8X8 trucks with a special loading system (Wechselladesystem);
From Spain:
- two additional HAWK systems and missiles for them;
From Greece:
- 155 mm shells;
From the USA:
- armored repair and evacuation vehicles M1089A1P2;
- radar simulators;
- reactive ammunition for HIMARS;
- 155-mm shells for barrel artillery;
- Humvee multi-purpose army vehicles;
- electric generators;
From Poland:
- ammunition for artillery and tanks, as well as short-range air defense systems;
- S-125 "Newa SC" anti-aircraft missile systems;
From Romania:
- TAB-71M armored personnel carriers;
From Finland:
- Finnish Sisu XA-180 wheeled armored personnel carriers;
From Slovakia:
- ACS Zuzana 2 (1 unit);
- 30 BMP-1;
From Belgium:
- underwater vehicles R7 (10 units);
From Lithuania:
- M101 howitzers;
- 155 mm ammunition;
From France:
- two Crotale air defense batteries;
- MLRS LRU (2 units);
- MO-120-RT61 mortars;
- 6 TRF1 howitzers of 155-mm caliber;
From Luxembourg:
- 102 NLAW anti-tank complexes;
- 20,000 cartridges for 12.7 mm machine guns;
- 12,500 shots to the RPG-7;
- 600 rockets for the 122-mm Grad rocket system;
- 22,400 Avon C50 gas masks;
- 44,800 filters; 5,000 bulletproof vests of the 4th class;
- 5000 helmets;
- 7 Jeep Wranglers;
- 15 large tents;
- 50 communication terminals;
- 358 arctic sleeping bags;
- 6 heaters;
- 800 radios;
- 470 means of night vision;
- 6 Primoco One 150 drones;
- 4 pickups;
- 4 trailers;
- 30 3D scanners;
- 18 generators;
- 10 sets of light poles;
- 28 HMMWVs and 20 12.7 mm machine guns for them;
From Bulgaria:
- small arms and ammunition;
From Great Britain:
-Brimstone 2 rockets;
- three "Sea King" helicopters;
- anti-aircraft guns and short-range air defense missiles;
From Romania:
- large-caliber machine guns DShKM.
Several aid packages were also announced. From Sweden for 3 billion crowns ($287 million), which includes air defense systems, as well as ammunition and other weapons that Ukraine requested. Finland has announced a military aid package worth 55.6 million euros. Canada allocates additional military aid to Ukraine in the amount of about 34 million dollars. This new military aid package includes, among other things: approximately $5 million to continue providing satellite imagery to the Armed Forces of Ukraine (AFU); more than $18 million for additional high-resolution cameras for drones; up to $10 million to provide additional winter equipment to support the Armed Forces, including portable heaters, thermal blankets, and sleeping bags. Canada has since announced another $500 million defense support package.
Britain plans to provide a £50 million defense aid package that includes 125 anti-aircraft weapons and technology to counter drones supplied by Iran, including dozens of radars and anti-drone equipment.
The United States approved a package of 400 million dollars. It includes missiles for NASAMS air defense systems; 150 large-caliber machine guns of an unnamed type with thermal imaging sights to counter drones; missiles for M142 HIMARS rocket systems; 200 high-precision 155 mm artillery shells (probably M982 Excalibur); 10,000 120-mm mortar shells; high-speed anti-radar missiles HARM for fighters; 150 high-mobility multi-purpose wheeled vehicles (HMMWV); over 100 light tactical vehicles of an unnamed type; 20,000,000 cartridges for small arms; 200 generators; spare parts for 105-mm howitzers and other equipment. In addition, the United States will transfer 80,000 155 mm shells. Germany announced the transfer of 7 more Gepard air defense systems and 18 RCH 155 self-propelled guns.
Morocco agreed to transfer spare parts for T-72 tanks to Ukraine. Slovakia also announced an additional aid package. It will include ammunition, large calibers, in particular for fighters, warm clothes, other equipment. The Ministry of Defense of Croatia, in turn, expressed plans to transfer 14 Mi-8 and Mi-8 MTV helicopters to Ukraine. Sweden also announced a new aid package. In includes air defense systems, components for another air defense system, and winter ammunition for the Ukrainian military.
Source: Mil.ua
Russia: internal and external challenges
By the end of 2022, Ukraine managed to liberate more than 50% of the territory lost since the beginning of a full-scale invasion. However, the Armed Forces of Ukraine enter the new year, albeit with a high morale, the issue of providing the Ukrainian army with the means necessary for successful counteroffensive remains open. The Ukrainian counter-offensive in recent months was actually stopped at the expense of the mobilized Russians. Lend-Lease of the United States of America did not work and Ukraine continues to receive limited amounts of weapons. At the current stage, the transfer of "Abrams" tanks and F-16 fighters to Ukraine is not considered, despite the fact that Ukrainian pilots began training on American aircraft back in the summer. Also, the current American administration does not transfer ATACMS missiles to Ukraine, which have a range of about 300 km.
Russia, in turn, is receiving more and more support from China. According to Chinese statistics, in the first eight months of 2022, China's investment in Russia amounted to $450 million, an increase of 150% compared to the same period last year. The Russian Federation and China agreed to invest in joint projects proposed by the Russian Federation for 1.3 billion dollars.[2] In recent months, Russian cargo planes have been flying at least ten times a week to Chinese cities where defense enterprises are located.[3] Aircraft often turn off their transponders for camouflage. Thus, the People's Republic of China helps the Russian Federation with the material and technical support of the army. In particular, China is likely to supply dual-use goods, chips, and electronic equipment needed by the military industry.
At the beginning of his term, Joe Biden announced a course to fight authoritarianism. However, currently the USA does not have sufficient resources and political will to confront the Russian Federation and the PRC at the same time. At a meeting of the leaders of the US and China before the G-20 summit, Joe Biden and Xi Jinping agreed that the use of nuclear weapons by the Russian Federation is unacceptable. For China's curbing of Russia's nuclear rhetoric, Joe Biden, for his part, could promise not to transfer tanks, aircraft and long-range missile systems to Ukraine.
Artificial self-restrictions of developed democratic countries on the transfer of modern weapons to Ukraine are prolonging the war and delaying the liberation of the occupied territories. In the conditions of high-intensity fighting in the east of Ukraine, the state's arsenals are being depleted, which puts Ukraine in difficult conditions. According to General Zaluzhnyi, Russia has a reserve of 1.2 - 1.5 million people. "The Russians are training about 200,000 new soldiers. I have no doubts that they will go to Kyiv again," Zaluzhny said in The Economist. The Russians can try to go to Kyiv, or to the western regions of Ukraine, with the aim of two tasks: first, to draw Ukrainian forces away from the East. Second, cut supply routes. The latest missile strikes have affected rail traffic. It is quite possible that this is not a coincidence and some of the missiles were intended to destroy the logistics of the Ukrainian army. Also, the development of events will depend on Iran's decision regarding the transfer of missiles and drones to the Russian Federation. The Ukrainian air defense system is being exhausted, which threatens to lose dominance in the Ukrainian airspace.
Therefore, Ukraine needs an increase in the supply of means to counter the Russian Federation and the ability to advance. In particular, this applies to American aircraft, tanks and armored personnel carriers, as well as missiles capable of destroying targets in the rear of the occupier. Despite the difficulties, the Russian regime maintains its viability and the ability to continue fighting. The duration of this war, security in Europe and the reputation of the US and NATO countries depend on the increase in military aid. If Ukraine's independence and territorial integrity are not preserved, the axis of authoritarian countries will continue to expand existing borders and provide support to each other during hostilities.
---
Sources:
1. Володимир Даценко, Битва за Бахмут перетворилася на безжальну окопну віи?ну. Бахмут стане новим Сєвєродонецьком чи у ЗСУ тут є шанси? 12.12.2022, URL: https://forbes.ua/war-in-ukraine/bitva-za- bakhmut-peretvorilasya-na-bezzhalnu-okopnu-viynu-prote-zsu-mayut-shansi-na-uspikh-chomu-bakhmut-ne- stane-severodonetskom-12122022-10416
2. Олексіи? Павлиш, РФ і Китаи? домовилися проінвестувати спільні проєкти на 1,3 мільярда доларів, 08.11.2022, URL: https://www.epravda.com.ua/news/2022/11/8/693597/
3. Росіи?ські вантажні Ан-124 літають до Китаю по десять разів на тиждень – Defence Express, 27.11.2022, URL: https://zn.ua/ukr/WORLD/rosijski-vantazhni-an-124-litajut-do-kitaju-po-desjat-raziv-na-tizhden-defence- express-.html